The
Most Powerful GPT-AI

for your custom knowledge base.
Chat with many kinds of files in natural language with GPT-powered AI and get quick and accurate responses to your queries. Say goodbye to endless scrolling and searching, and say hello to a smarter, more intuitive way of working with your documents.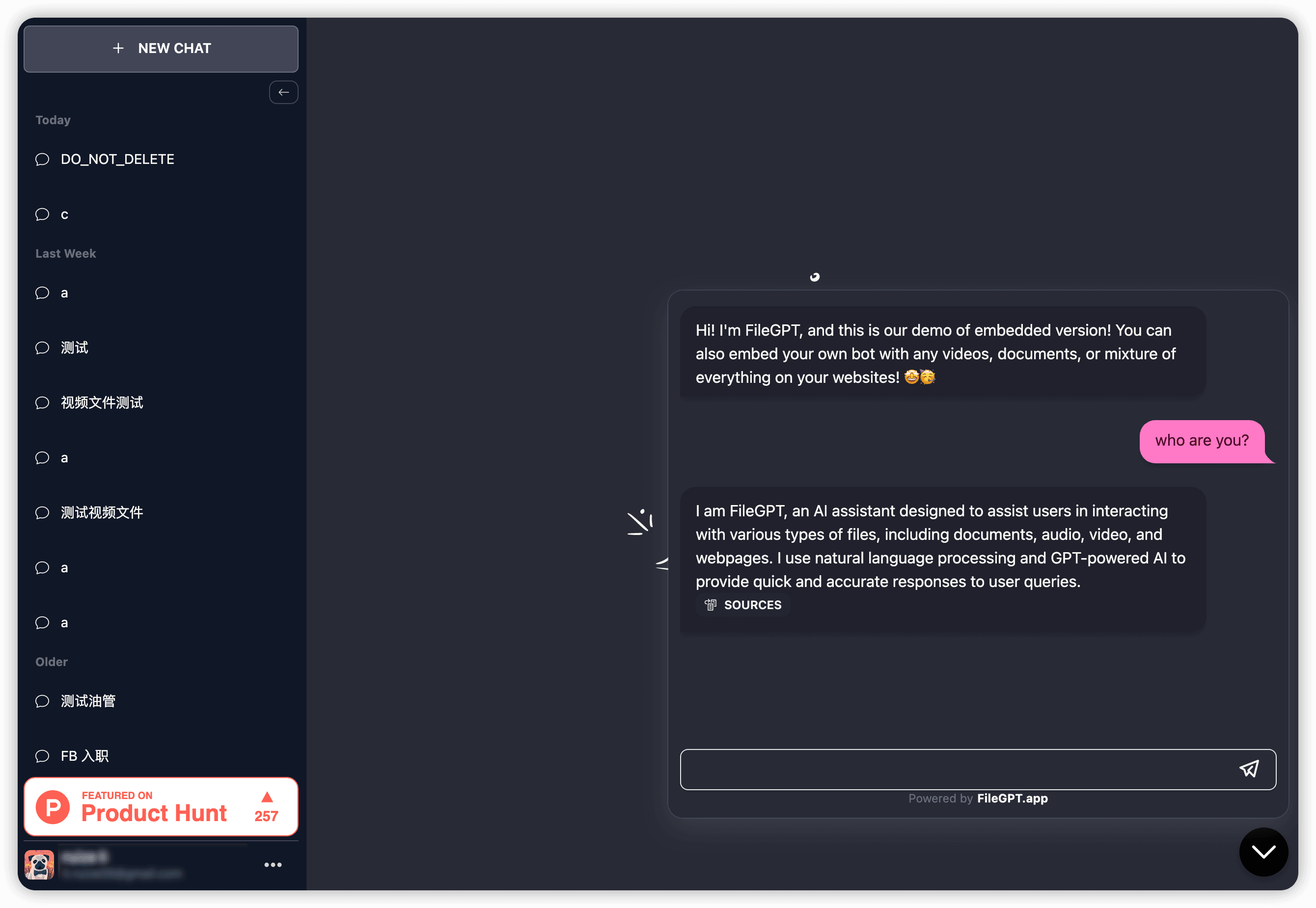 Our Features
FileGPT is built to help you work smarter, not harder. Check out our features that make this possible.
Chat with Everything
One stop to interact with your files, audio, videos, YouTube, and webpages.
Multi Format Support
Work with PDFs, TXTs, DOCs, audios, YouTube, webpages and more.
Long Text Support
Long text? No problem! FileGPT supports large files and long texts.
Smart Content Parsing
Extract text from handwritten document and analyze audio and video content.
Cross-Source Querying
Easily query with all files at once. Select sources, ask questions, and get answers.
Affordable Technology
Upgrade your workflow with a cost-effective solution. Try now!
Don't just take our word for it
See what others are saying
Jacob Thompson
History Major
"I never thought writing reading responses could be so effortless. This app is a game-changer. I'm loving the way it understands what I'm asking and provides helpful responses."
Arjun Gupta
Program Manager
"I'm blown away by how intelligent this app is. It's like having a personal assistant that can handle all my files and online content. I've saved so much time since I started using it."
"As someone who works with data, I can't imagine going back to traditional document reading. This app has made my work so much easier, and I'm grateful for the convenience it offers."
Frequently Asked Questions
What is FileGPT?
FileGPT is a Large Language Model (LLM) based App that can be used to ask and interact with contents from multiple formats.
Can I try it for Free?
Absolutely, you can try out FileGPT for free; however, if you wish to increase your usage you'll need to upgrade your account.
How long will I have access to FileGPT?
You will have unlimited access to all your collections of contents.
Why should I use FileGPT other than ChatPDF or ChatDOC?
FileGPT supports larger files and longer texts, and it allows you to ask multiple files and integrate them in a single answer.
What kind of files does FileGPT support?
FileGPT supports PDF, DOC, TXT, audio, YouTube, and webpages, giving users the flexibility to ask many kinds of content.